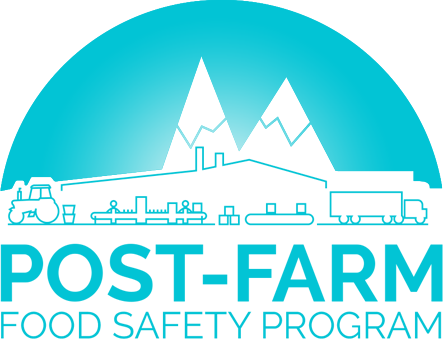 List of Eligible Activities
Do you have an idea of what you would like to do with your Post-Farm funding? Check below to see if it fits under the eligible or ineligible categories.
CATEGORY #1: Gap-Assessment or Pre-Audit 70% Coverage Max $20,000
Activities under this category focus on obtaining an assessment of the food safety risks and traceability capacity of a business, resulting in a workplan to address gaps. Assessment will demonstrate:
Impact of the project on improving food safety and traceability and controlling food safety risks
Impact of the project in addressing identified business need or opportunity
Click here to access the list of Accredited Food Safety Professional to get your Gap-Assessment of Pre-Audit
Eligible activities and costs are:
Costs for a gap-assessment or a pre-audit by a third-party to identify opportunities for food safety (including traceability) improvements,
Development of a Food Safety workplan outlining the actions needed to implement a HACCP based food safety program, including traceability planning.
CATEGORY #2: Food Safety Improvement Activities 70% Coverage Max $20,000
Activities under this category focus on developing and implementing written food safety improvement activities, validate their existing practices and develop plans for food safety and traceability procedures.
Projects under this category focus on developing the following:
Developing traceability plans
Developing and implementing written food safety programs
Purchasing equipment which is directly and strongly related to food safety
Making facility upgrades for regulatory compliance
Conducting laboratory testing specifically required to reduce food safety risk
High quality projects should include activities that demonstrate the highest impact on reducing food safety risk.
Maximum available cost-share:
No cap for activities (except equipment and facility modifications)
Equipment and/or Facility upgrades capped at $15,000 per applicant for the PFFS Program Term (5 years).
2-A: Equipment purchases and/or facility modifications 70% Coverage Capped at $15K over 5 years
Eligible activities under this funding pocket include:
Equipment needed for Critical Control Points (e.g. metal detector, magnets, chlorinator, physical water treatment methods UV, ozonation, filtering systems, thermometers, or monitoring devices required by HACCP Plans/CCPs [e.g. temperature probes, pH meters])
Equipment to support the implementation of written food safety programs:
Hand washing sinks, soap and paper towel dispensers, hand sanitizing stations, footbath/door framers, sanitizing stations;
Storage facilities for work clothing (hooks, lockers, cupboards) and street clothing (lockers, cupboards);
Re-useable protective clothing (apron, boots, etc.);
Purchase of signage;
Designated utensils (scoops, pails, containers, brushes, brooms, shovels, bins, totes);
Cleaning equipment (hoses, nozzles, bin washers);
Cleaning utensils to support the development of a utensil control system (colour-coded brushes, squeegees);
Cleaning and sanitizing verification (ATP luminometer, microbial rapid detection kits);
Containers suitable for chemical application/use, pre-mixing unit/automated chemical dispenser, foam systems;
Equipment/tools for testing chemical levels in water (e.g. ORP meter/automated system);
Chlorinator and equipment designated to water treatment methods (e.g. ultraviolet, ozonation, filtering systems),
Methods for water re-circulation treatment system;
Upgrading to food safety materials (non-toxic, smooth and non-absorbent);
Equipment designed for effective cleaning and sanitizing;
Pest control devices;
Reference thermometer;
Back flow preventers;
Lighting to meet operational requirements;
Monitoring devices for environmental control;
Ventilation to maintain positive air pressure where required; and
Initial set up and calibration of new equipment with direct impact on food safety.
Posters or signage depicting/explaining HACCP procedures.
Capital Costs (including building upgrades) to meet requirements of written programs:
Upgrading interior surfaces to cleanable materials (non-toxic, smooth and non-absorbent);
Separate storage area for chemicals (room, chemical cabinet);
Shatterproof lighting;
Replacement of glass windows in food handling areas to shatterproof material;
Gravel perimeter around buildings where food is handled and stored;
Drainage to prevent pooling water around the facility;
Facility modifications so food handling areas do not open directly outside;
Installing self-closing doors;
Replacement of glass windows in food handling areas to shatterproof material;
Upgrading to food safety materials (non-toxic, smooth and non-absorbent)
Sloping floors, adding coving;
Dedicated lunch room; and
Dedicated personal storage facilities.
2-B: Other food safety improvements 70% Coverage Max $20K
Eligible activities under this funding pocket include:
Third party costs to develop written food safety documentation (i.e. food safety policies, procedures, schedules, and records), including:
Personal and handling of food
Cleaning and sanitizing: water treatment and testing, etc.
Pest control-preparation of a pest management plan for buildings by a third-party pest control business
Food safety record keeping, traceability plans, recall plans
Preventative maintenance and calibration of equipment related to food safety
Shipping/receiving
HACCP or PCP
Operational pre-requisite programs including, allergen, foreign material prevention program, etc.
Third party consultation/advisory costs- one-time training of staff on newly developed or updated procedures, policies or practices related to food safety, i.e. how to collect samples, calibrate equipment
Food safety training /skills development- projects under this category will focus on increasing general knowledge of food safety risks, risk prevention, and food safety programs by taking education or training course. Course outline (detailing training to be provided and outcomes, including a cost summary or quote), training and materials form an accredited third-party organization or training provider on food safety.
Validation of food safety process (outlined in HACCP plans/CCPs) control measures
Laboratory analysis – Baseline 3rd party laboratory to conduct testing:
Testing of water, food or food contact surfaces to assess that the item is suitable for their intended uses (i.e. sanitation, food contact surface, product-testing, etc.)
Testing performed by an accredited 3rd party laboratory to obtain validation results.
Developing a traceability plan to enable integration of multiple processes (e.g. receiving, shipping, production and inventory, sales/marketing, procurement, food safety records, resource management
Developing Recall Plan to include:

Contacting authorities and customers
Record-keeping of all actions taken during a recall.

Traceability – projects related to traceability implementation can be accessed through an independent Traceability Program. For more information, please visit: https://www2.gov.bc.ca/gov/content/industry/agriculture-seafood/programs
CATEGORY #3: HACCP Final Audits/Certifications 70% Coverage Max $20,000
This category focuses on final audits leading to successful certification(s) to nationally or internationally recognized food safety program. Participants are eligible for multiple HACCP plans.
You MUST achieve your HACCP certification(s) in order to be reimbursed.