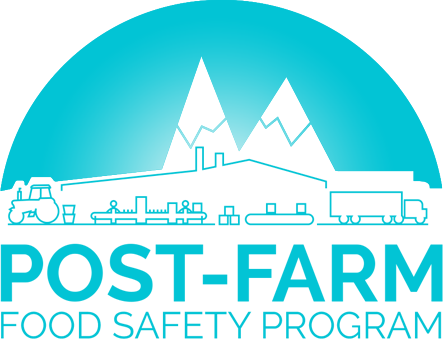 Useful Documents and Links
A variety of resources are available to guide your business, educate employees, and develop training and skills. Explore the list below for a sample of what you can find in Canada.
BC Centre for Disease Control Food Safety Resources
Educational Materials
Guidebooks
Guidelines and Forms
Reports and plans
BC Food Processors Association
Provides lists of information on regulations governing the manufacture of food.
BC Food Safety Act Meat Inspection Regulation
Meat Inspection Regulation
BC Milk Industry Act & Regulations
BC Public Health ACT Food Premises Regulation
Canada Business Network
If you operate a business in the agriculture and agri-food industry, you play a role in ensuring the health and well-being of Canadians. You should therefore be aware of the regulations that apply to your operations.
SAI Global
Free webinars and white papers on BRC, SQF, GFSI and HACCP
Canadian Food Inspection Agency
Step by Step Guide for Preparing a Preventive Control Plan
SFCR – Toolkit for businesses
CFIA guidance repository search for safe food production
CFIA Guide to Food Safety
CFIA Labelling Tools
CFIA SFCR Webinars
| Other Industry Resources | Description |
| --- | --- |
| Agriculture and Agri-Food Canada | We help Canadian farmers and businesses produce the best possible food and agriculture products. Through our programs and services, we support innovation, sustainable farming, business development, managing risk, trade and market development. |
| BDC | We are Canada's business development bank and the only financial institution dedicated exclusively to entrepreneurs. |
| British Columbia Food Safety & Sanitation Plan Requirements | These regulatory changes require B.C. food processors to develop, maintain and follow a written Hazard Analysis Critical Control Point (HACCP)-based food safety plan and sanitation plan. |
| BC Registries and Online Services | All registrations of businesses, not-for-profit societies, cooperatives, personal property and manufactured homes are administered and supported by BC Registries and Online Services. |
| Can-Trace | Can-Trace is a collaborative and open initiative committed to the development of traceability standards for all food products sold in Canada. |
| Canadian Food Inspection Agency (CFIA) | Mitigating risks to food safety is the CFIA's highest priority, and the health and safety of Canadians is the driving force behind the design and development of CFIA programs. |
| Canada Revenue Agency Registering your business | Businesses that have simple registration requirements can register for a business number using the Business Registration Online (BRO) service. |
| FIOSA/MIOSA | The Manufacturing Safety Alliance of BC is the Health and Safety Association for Manufacturers and Food Processors in BC. |
| SGS Canada | We partner with you to offer independent services that will help you reduce risk, streamline your processes and operate in a more sustainable manner. |
| U.S. Food and Drug Administration HACCP Guidance | HACCP is a management system in which food safety is addressed through the analysis and control of biological, chemical, and physical hazards from raw material production, procurement and handling, to manufacturing, distribution and consumption of the finished product. |

We encourage all eligible businesses, no matter where you are on the food safety spectrum, to apply for program funding!